BOOT CAMP FITNESS CLASSES! Join us!
Created on 21 January 2014
0 Comments
Don't delay your commitment to fitness!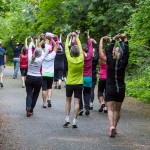 Have you put off making a decision on joining our boot camp class?  Are you thinking that it's "too late" to get fit & healthy?
Well, you're wrong!
You still have PLENTY of time to get in on Victoria's premier fitness boot camp experience.
Please, come outside and work out with us!  We'll help you to kick start your metabolism and get going on a healthier lifestyle.
Contact the office .  .
at (250-590-3488 or info@alteregofitness.ca) and join us to get a start on the new healthier and fitter you!
Loreli's Bits & Bytes