Recipe – Marrakesh Curried Stew
Created on 15 September 2016
0 Comments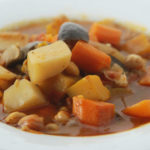 I found this recipe in the Refresh Cookbook.  It's a really light, yet hearty vegetarian stew, that has such vibrant and fresh flavours and it's now one of my favorite recipes for those colder days.  Eat this as prepared, or serve it over your favorite rice, and you're sure to have a tasty meal.
Ingredients:
2 onions, peeled and cut in chunks
2 carrots, peeled and cut in chunks
2 red potatoes, cut in chunks
1 sweet potato, cut in chunks
1 small eggplant, cut in chunks
6 cloves of garlic, minced
2 green peppers, cut in chunks
1 red pepper, cut in chunks
1 zucchini, cut in chunks
2 cups cooked or canned chickpeas
3 tbsp. raisins
2 cups vegetable stock
2 cups coconut milk
1 tsp. cinnamon
1/2 tsp. cayenne pepper
2 tbsp. curry powder
4 tbsp. cumin, ground
1/2 tsp. turmeric
2 tbsp. grated coconut
Sea salt to taste
Preparation:
Put the onions and carrots in a large pot with 1/2 cup of vegetable stock and cook over medium heat until onion softens a bit, about 3 minutes.
Add the coconut milk and the spices. Cook for 1 minute, while stirring.
Add the red and sweet potatoes, and the rest of the stock. Cover and let cook for 5 minutes.
Add the remaining ingredients. Stir, cover and cook until vegetables are just soft, about 20 minutes.
To bring out all the flavours, season to taste with a pinch or two of sea salt.
Serves 6.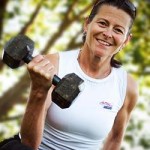 Loreli loves to exercise and loves to eat too!  Her fitness company, Alter Ego Fitness Experience, offers Personal Training, Group Fitness (boot camp) and YogaFit training options.  Loreli is very aware, due to personal experience, of the value of healthy food that not only nourishes the body, but also nourishes the mind and pleases the palate!
"One cannot think well, love well, or sleep well, if one has not dined well."
Recipes