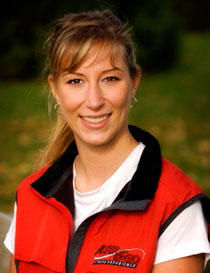 In seeking happiness for others, you find it for yourself! 
Kari has always had a passionate interest in being physically fit. So, after finishing business school and landing a job in the BC Provincial government, she quite naturally returned her focus to health and wellness.
By 2010, she had completed her Fitness Theory and Strength Training certification and passed the Instructor Competency Exam to become a certified BCRPA Fitness Trainer. And, in early 2015, Kari completed the training and received her certificate to instruct YogaFit Level 1. Her previous years of experience in dance and ballet has now morphed into a love and passion for yoga. Kari plans to continue her training in yoga with the ultimate goal of completing the 200-hour Registered Yoga Teacher program.
To balance her yin with her yang, she runs. She's participated in many races around Victoria, including several 10Ks and Half Marathons, but her biggest running achievement is completion of full Marathons. In 2013, she completed the Vancouver BMO Marathon and achieved a sub 4-hour time in the Victoria Goodlife Marathon. Kari embraces the dedication and determination needed to be a marathon runner and strives to incorporate this type of mentality and focus in other areas of her life too.