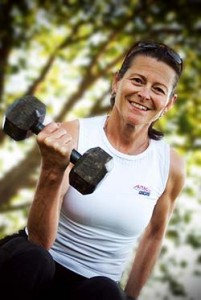 Loreli is a BCRPA Certified Personal and Strength Trainer and is fully trained and certified with Can Fit Pro as a Personal Training Specialist.  She's also certified to train Agatsu Pro-Grade Kettlebells and Mat 1 Pilates.
Loreli's passion for health and fitness is plain to see in her talent to motivate.  It shows in her positive attitude and in her no-nonsense, yet encouraging, approach to training.  Whether she's drumming in dragon boat races or training people for a Mudd, Sweat, & Tears obstacle course, a Victoria Goddess run, during her bootcamps, or working one-on-one with a Personal Training client, she has an innate ability to sense an individual's personal needs to bring out the best in him or her - and to help them find their "alter ego".
Her love and enjoyment of exercise are also evident in her long list of accomplishments since she started working in the outdoor fitness industry ten years ago.  Her recent achievements include completing the Kusam Klimb in June 2013, completing the Mudd, Sweat & Tears Victoria (Halloween Edition) 5K Mud Run in November 2013, participating in "Canada's Toughest 10K" run at Bear Mountain Resort in Langford four times, and being a training partner for the Victoria Goddess Run for the past three years.
Understanding that a commitment to wellness is not just about exercise, Loreli is also educated about natural nutrition - knowledge she gladly shares with her clients - and she is certified Kruger Omni Healing practitioner.
She has been interviewed on the radio and conducts exercise and nutrition presentations at health expos.  But, Loreli doesn't just "talk the talk", she walks, runs, hikes, paddles, eats, breathes, and lives a commitment to fitness.