Fitness Products / Accessories

Alter Ego Fitness Experience is pleased to announce that we are an Affiliate Distributor of Lebert Fitness products.
Lebert Fitness is a world leader in innovative bodyweight training tools.  We use the following products during our bootcamp classes and believe that they are excellent quality.
To purchase these great Lebert Fitness products please CLICK HERE.
You'll be re-directed to the Lebert Fitness website.  Once there, you'll be able to select and order your products; and, enter delivery and payment information.  Your products will then be delivered directly to your door!  For additional information, on these products and their warranty and/or return policies, check out their FAQ section.
Lebert Stretch Straps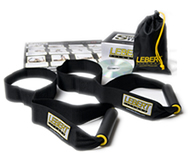 The padded handle allows for a comfortable grip while reducing wrist tension so you can enjoy your stretches longer!  The strap itself is a double loop system (much like a figure eight) that easily wraps around hands and feet (or running shoes) for a secure and confident hold.  Either loop can be held to reflect personal "reachability" or the straps can be looped together to create a longer assist. Package includes a pair (2) of Lebert Stretch Straps, poster, DVD with Ann Green, and carrying pouch.
Cost:  $36.99 (plus taxes and shipping)
Lebert Equalizer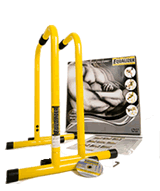 The Lebert Equalizer is a simple, portable, yet multi-purpose and versatile piece of strength training equipment that works arms, chest, back and core muscles like no other can. Participants use their own body weight as resistance and decide what level is right for them. With the ability to easily add more repetitions (without having to stop and change a pin in a machine or have someone helping) this product becomes very versatile. This simple versatility allows the user full control over the amount of body-weight used for a given exercise. The result is greater muscle endurance and strength. Each Equalizer bar weighs 8 pounds. Each Equalizer bar is 28-1/2 inches high by 25 inches wide and it has been tested to support up to 400 pounds of body weight. The Equalizers can easily be stacked together, taking up little storage space. Package includes 2 Equalizer Bars, Beginner/Intermediate Workout DVD with Marc Lebert and Laminated Poster.
Cost:  $119.99 (plus taxes and shipping)
We also offer the following
Alter Ego Fitness

promotional products:
To purchase these products, please

email the office

to make the necessary arrangements.
Duffel Bag
Our two-tone (red and black) duffel bag is made of durable 600-denier polycanvas and features a large interior compartment and full-front slash pocket with a spot for your water bottle.  It provides optimal storage for your additional clothing (remember, we recommend layering) and/or post-workout snacks. Perfect for weekend travel too!  It includes two fabric-wrapped handles and an adjustable shoulder strap for easy portability. Size: 10-1/2" x 18" x 9"
Cost:  $20 (plus HST)
 Water Bottle
This stylish and rugged sport bottle is made from 18/8 stainless steel.  Includes a black plastic screw cap for convenient opening and closing with a hole for transport. Easy to grab and go with the aluminum carabiner clip attached right to the lid. Holds 750ml (25 oz.) of water or your favourite sports drinks.
Cost:  $12.50 (plus HST)

Running Cap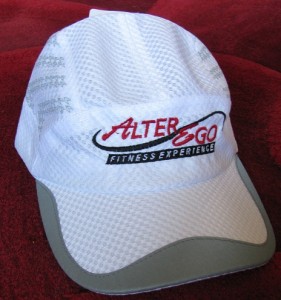 Our dri-fit, lightweight, running cap is perfect for keeping the sun out of your eyes during an outdoor workout.  It's a 100% polyester mesh 7-panel cap with superb fit.  Lined with Coolmax Active Performance sweatband to enhance wicking of sweat for extreme dryness and comfort. Peak is wrapped with reflective fabric in wave design. Unique reflective print on side panels, in chevron pattern, for extra illumination.  Adjustable cloth back strap, with double reflective piping, for easy fitting.
Cost:  $12.50 (plus HST)