Created on 12 October 2016
0 Comments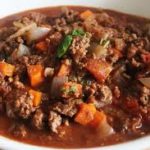 This colourful and flavourful meat sauce can be used for multiple purposes.  It can be applied directly as a topping for spaghetti or other pastas (for a gluten-free meal, use brown rice pasta).  If you want to add some beans, it can be used as a base for making chili.  Or, add some water to make it more liquid, throw in some cooked rice or barley (or quinoa) and use it as soup base.
Ingredients:

1.5 - 2 Lbs     Ground bison or chicken meat

½  ea.          Green, Red & Orange bell peppers (diced)

3                  Celery stalks (diced)

3                  Carrots (diced)

1 cup            Frozen corn niblets

1 - 2             Onion (finely diced)

2 cups          Mushrooms (fresh, sliced)

2                  Med - lge cloves of garlic

1                  Medium zucchini

1 Tsp           Fresh ground pepper (or ½ Tsp Cayenne)

1 Tsp           Chili powder

1 Tsp           Cumin

1 Tbsp          Oregano

1 Tbsp          Basil

2 Tbsp          Olive Oil

6 - 8             Organic roma tomatoes

1                  Container of cherry tomatoes

1                 13 oz (369 ml) can of tomato paste
Preparations:
Prepare the peppers, celery, carrots, zucchini and mushrooms (we use only organic) by cutting them into small, diced size, pieces.  If you prefer larger chunks, that's okay too.
In a large pot, on "Medium" heat, brown the meat.  Stir occasionally so that the meat is broken up and doesn't end up in large chunks.  Add in the basil and oregano.
In your blender, add the tomatoes, the remaining spices and garlic cloves.  Blend until smooth.
Once the meat is browned, add the blended tomato mixture and stir to ensure that the spices are evenly distributed throughout the meat.
In a separate pan heat up the olive oil and add in the mushrooms, bell peppers, celery, onion, zucchini and carrots.  Stir occasionally to ensure the ingredients sauté evenly.  Once these ingredients are cooked to the desired tenderness, add to the meat/tomato sauce in the large pot.
Now, add the frozen corn and tomato paste and stir.  Cut the cherry tomatoes in half and stir into sauce.
After several minutes, turn the heat down to "Low" so that the mixture will continue to simmer.  Stir occasionally and continue to simmer for ½ - 1 hour.  Meat sauce is now ready to use.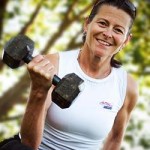 Loreli loves to exercise and loves to eat too!  Her fitness company, Alter Ego Fitness Experience, offers Personal Training, Group Fitness (boot camp) and YogaFit training options.  Loreli is very aware, due to personal experience, of the value of healthy food that not only nourishes the body, but also nourishes the mind and pleases the palate!
"One cannot think well, love well, or sleep well, if one has not dined well."
Recipes