Recipe – Sweet Potato/Bean Burgers
Created on 22 April 2015
0 Comments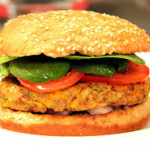 This recipe combines sweet potatoes and navy beans for a veggie burger that's packed with carbs, protein, vitamin A and fiber.
Ingredients:
2 medium sized sweet potatoes
14 oz cooked and drained white navy beans (I use dried beans, soaked and then cooked with Kombu)
2/3 cup garbanzo bean flour
1 red onion, medium-sized, finely chopped
½ cup walnuts, finely chopped
1 tbsp Dijon mustard
1 tsp ground cumin
¼ tsp Himilayan pink salt or sea salt
¼ tsp pepper
Directions:
Bake the sweet potatoes until tender. Let cool, then peel and mash. Add the navy beans and continue mashing.
Stir in the flour, red onion, walnuts, mustard and spices. **
Form into patties. Grill for about 4 minutes on each side, or until crust is crispy, depending on cooking temperature and thickness of patty.
For a vitamin rich alternative to "normal" mayo, in a blender combine 1 cup parsley, 1/3 cup olive oil, juice of ½ lemon, 1 finely chopped garlic clove and ¼ teaspoon salt. Blend until smooth and spread on your buns.
** You could add ½ - 1 cup of shredded carrots, or any other veggie chopped fine for more veggie punch.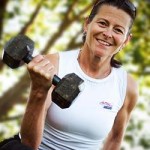 Loreli loves to exercise, and she loves to eat too! Her fitness company, Alter Ego Fitness Experience, offers outdoor Group Fitness (boot camp) classes and Personal Training.  Loreli is very aware, due to personal experience, of the value of healthy food that not only nourishes the body, but also nourishes the mind and pleases the palate.
"One cannot think well, love well, or sleep well, if one has not dined well." - Virginia Wolfe
Recipes