You deserve to be healthy, happy & fit!
We recognize that your goals ARE important!  Allow us to help you to achieve them!
JOIN US!  And you'll experience how great being fit and healthy really feels!
You'll tone and firm your muscles, reduce your body fat percentage, lose weight, build bone density and increase your cardiovascular endurance!  All this can be done when you participate in our program of progressive fitness classes.
Interested?  Wondering what you can expect?
We offer Group Fitness classes (some people prefer to call them "boot camp"), and Personal Training  services throughout the Capital Regional District.  The Group classes are done in various outdoor locations in Saanich, Gordon Head, Oak Bay, Esquimalt and/or the West Shore.  For the Personal Training option, we can use those locations too or, if you prefer, come to a location of your choice (home, office, etc.).
Some of our clients have called these classes "tough" or "challenging".  And, we're okay with those descriptions because, in all fairness, they've also described them as "exhilarating" and "FUN" too!  We make sure that you get a good workout at each class.
We get familiar with each client's personal fitness goals and can easily tailor most exercises to meet your specific needs or abilities. We'll safely guide you through exactly what you need to do to get the health and fitness RESULTS you seek.

Please click on the video link below to watch a short welcome infomercial.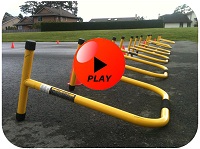 Your Training Session will include:
Certified Trainers;
Smaller, more personal, class sizes:
Additional Trainers to ensure a lower client-to-trainer ratio;
Quality equipment - we supply it ALL;
Personal attention to form and technique;
One-on-one body assessment and goal setting;
Nutritional monitoring and support;
Scenic, outdoor locations (otherwise known as "Nature's gym") in the Greater Victoria BC area - both "in town" and in the West Shore; and,
Ongoing email and phone support.
We're passionate about what we do and we're confident that you'll enjoy the benefits of the Group Fitness (boot camp) classes and Personal Training options we offer.  We make it so you WILL look forward to your next training session!
For additional information, please scroll back to the top, place your cursor over the relevant topics in the header listing and select from the drop-down menu.