Loreli's Interview On CFAX Radio
Created on 12 March 2014
0 Comments
Loreli was interviewed  .  .  .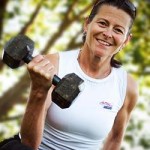 for the "On-Air With Pamela McCall" show on CFAX 1070 radio station, just prior to the recent Victoria Women's Spring 2014 Expo.
She was there to promote the subject of her talk at the Expo - "Exercising The Truth - What Works? What Doesn't?".
If you missed it, don't despair, here's an audio copy of the full interview.
Click on the link below to listen.
Loreli's Bits & Bytes