Recipe – Pomegranate & Avocado Salsa
Created on 19 November 2015
0 Comments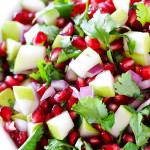 I don't know about you but I really LOVE holiday parties!  They're usually full of great company, lots of laughs and some great tasting foods!  This is one of my favorite "go to" holiday potluck dinner party recipes.  Just in time for the upcoming "party season", I wanted to share this delightful recipe with you!
Ingredients:
1 Tbsp fresh lime juice
2 Tbsp honey
1 Minced jalapeno pepper
1/4 Cup of diced red onion
2 Large ripe avocados, cut into 1/4" pieces
1/2 Tsp Pink Himalayan or sea salt
2 Tbsp fresh, chopped, cilantro
Seeds from one (1) pomegranate
Coarse salt and ground pepper
Variation:   For a slightly different taste, feel free to experiment with adding some finely diced pieces of apples, pears, pineapple or oranges.
Preparation:
In a large bowl, whisk together the lime juice, honey, minced jalapeno pepper (seeds removed for less "heat" if desired) and the chopped red onion.
Add the remaining ingredients. Season with coarse salt and ground pepper, if desired. Toss gently to combine.
Serve with pita crisps, tortilla chips or crackers as desired.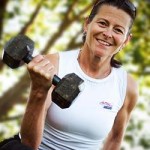 Loreli loves to exercise, and she loves to eat too! Her fitness company, Alter Ego Fitness Experience, offers outdoor Group Fitness (boot camp) classes and Personal Training.  Loreli is very aware, due to personal experience, of the value of healthy food that not only nourishes the body, but also nourishes the mind and pleases the palate.
"One cannot think well, love well, or sleep well, if one has not dined well." - Virginia Wolfe
Recipes